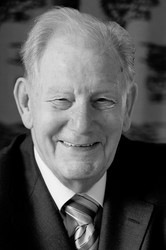 Two years ago I asked my wife to marry me, and fortunately she said 'Yes!' :-D At D-Day -1, we met our neighbor on his door step and told him we were going to get married tomorrow. To his surprise and then to ours, he told us that we are sharing the same wedding date and that on our wedding day it will be their diamond (60th) wedding anniversary! What a coincidence, isn't it?
Mr & Mrs Greengrass are a lovely couple, but very sadly Joan, his wife, passed away about a year later.
This year, for our second anniversary we started the day by bringing some cakes and knocked on his door and proposed him to share a breakfast with us. We stayed for couple of hours before heading for our afternoon with some friends.
Ron then has invited us to join him for a lunch one Sunday at the West Middlesex Golf Club. I took the opportunity to take a headshot of him, something I should have done few years ago, and offered him some large prints for him and his family and friends. Ron was very pleased with the result and saying it is "the best portrait of me". Which pleased me a lot, not because I took it, but because I was able to bring a smile to his face and bring something pleasant to him. Last Friday we were invited to the Golf Club race night, it was the first time my wife and I were betting on horse and dog races :-D we brought back £4 lol... Ron was showing his portrait to his friends in the membership, proud.
Have any of you have similar experience where you have done some little things that brings a lot to someone?
-30-