"King Park" a group of teenagers in Paris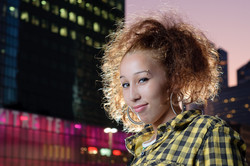 Sorry for the long radio silence. After our holidays in Montpellier (France) that has started with a 4 days of nightmare trying to get into a plane: 3 flight cancellations, 12 tickets! I got sick with a very long and painful cough. But it seems to go away slowly now.
Back in September last year, I went to Paris for some training and to meet the Strobist@Paris meetup group. After the meetup, when all other photographers have gone home for dinner, I stayed around and waited for the sunset to see if there would be any photographic opportunity. I wasn't disappointed.
As I was wandering around I met a group of teenagers and proposed to take their pictures. They were over-excited and accepted the offer. They are a group of friends that live in the same town, dancing and doing music together. They are now a little association that regularly meetup in a room in their school and around Paris, especially here at "La Defence"
I started the shoot by taking portraits of each of them individually or by two. Then we did some group shots and also re-iterate two days later with the rest of the group.
These kids are brilliant, they are full of energy but very respectful. Working with them was smooth and they know how to pose in a cool way which makes my life easier as I only needed to tweak.
For this trip from London to Paris, I only brought with me the minimum: Nikon D300, a 105mm f/2.8 micro lens, a 50mm f/1.8 lens and a Sigma 10-20mm f/4.0-5.6 lens. For the lighting I took with me my new SB-900 and a SB-600 along with a white shoot through umbrella and a compact light stand. All fit in a single backpack.
In the head and shoulder of Anissa (above), the key light was a SB-900 shooting thru the white umbrella. For the hair light, I asked one of the youngsters to be my VAL (Voice Activated Lightstand). The hair light was coming from behind the model and from below. Both were triggered via CLS with TTL. I started with the camera in manual mode, and aimed for a shutter speed of around 1/20 sec to avoid shake blur. An aperture of f/5.0 gave me a nice and crisp foreground and enough blur to the background to separate the two. To reveal the nice city background at sunset, I boosted the ISO to 320.
From there I just played with the CLS settings to compensate the flash exposure values. Having the hair light on a VAL helped a lot in this situation as I can change the flash position and angle by voice.
The white umbrella at a distance delivered a nice not too soft light for a young lady's skin and the bare flash at the back just make her hair comes to life and separated her from the background.
Here is a lighting diagram made from my online lighting diagram creator:
For more photographs of this photoshoot, click on the image below:
Tweet