London Strobists group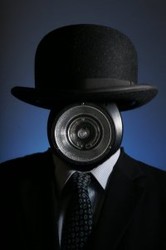 Using flash is something that a lot of beginners and even pro photographers are avoiding stating that available light is the way to go and natural light is the best light. But have you ever thought that by putting your flashgun in you bag, you make it an available light ready to be used wherever and whenever you need to complement or replace a bad natural light?
What if you need to do a bikini shoot in a dull cloudy day like we got here in London, UK? What if you are shooting indoor with low light level without those high end cameras? There are a lot of situations where a flashgun becomes handy and that's the reason why you should now start to use an external flashgun and learn to use it off-camera for a more creative light.
Learning to use your flash properly is not difficult. It's just a matter of practicing again and again. But once you get it, it will boost your creativity and make you go to the next level.
To learn off-camera techniques, there is no better place than on David Hobby's photo blog: Strobist. Started in 2006, the Strobist blog is teaching you all you need to know in order to master your little flash units and how to be creative with them. The result is just stunning, what can be achieve in a studio using heavy and expensive strobes can be reproduce with those lightweight speedlights. The blog is written is such a way that it is easy and fun to learn. Among all cool stuffs you can learn from the blog:
How to remotely trigger your flash to shoot off-camera
How to get softer light with a flashgun
How to expose your flash and balance it with the ambiance
How DIY can get you high quality images at low cost
How to expose multiple flash setups
How to learn from analysing other's photographs
The Strobist blog is complemented by a Strobist Flickr group. A place where you can meet nearly 50,000 photographers from around the world and discuss about off-camera flash photography. The group also allows members to post their strobist pictures along with explanation on how to acheive the same image yourself.
All around the world, subgroups of Strobists have been formed and have their group setup on Flickr. London has its own group and they are meeting up this Sunday 22nd of February 2009. It's a great opportunity for you to meet other photographers with same interests. There will be 2 meets a month. The first will be purely social in a pub; come to meet and discuss with both amateur and professional photographers in London. The second meetup is a practical session. For more info, please take a look at the links that follows.
Tweet