Micheldever Wood - Part I - Lyvia the Elf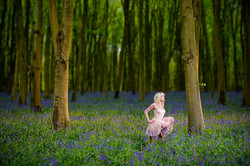 Twitter, what a great invention! Updating the world with what's is going on in your life, networking with talented people, promoting your business, you name it!
DwikoArie is a wedding photographer I've first met on Twitter. We have tweeted a few times but never actually met in real life. I've invited him to join the London Strobists and LPMG groups but never had the chance to meet yet. Two of my mates from the London Strobists group told me about Dwiko and having a look at his blog I was quite impressed of the quality of his wedding shots. One day Dwiko suggested that we should do a shoot together which I of course accepted.
It's only after couple of months that we managed to get a date where we were both available. After few selections, we finally chose to shoot in Micheldever Wood, Winchester.
First of all here are the people I want to thank for making this shoot possible:
It takes about an hour to get to Micheldever Wood from London. We met up in Battersea Park early morning and headed to the wood in a 7 seater. The models and MUA were very friendly so it was the trip was fun. At destination, Sarah started her work with Lyvia while Dwiko and I started to scout the location. SnapperJack stayed with the girls for the video of the makeup. Having spotted the perfect location for our shoot, we came back to pickup the rest of the team.
It was a really cold day and the sky was covered with heavy snow clouds, it even rained at some points in the day. But fortunately under the trees we were more or less protected from the rain, but not the cold...
Here is an iPhone shot of the shoot location:
Pretty cool, isn't it? Even the iPhone could get an interesting shot. The wood was fantastic, in this period of the year the leaves are still young and they are of bright green. The tree trunks are covered with a slightly orange layer adding a bit of warmth to the scene. And of course the patch of bluebells was beautiful.
I haven't finished with processing the images, but here's one of my favorites of the day: Lyvia in her pink dress surrounded by the bluebells, looking towards the flashguns... ahhemm I mean the sunset...
More pictures will posted in the coming next parts, so stay tuned. In the mean time below are some shots of the location in natural light and Dwiko in action. The last part will be a discussion on how to shoot under in a wood on a cold and cloudy day and get a summery feel.
To be continued...
Tweet