Mobile phone photography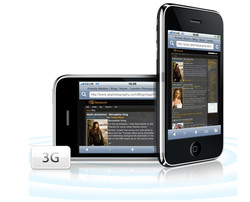 I recently discovered some pictures taken on the iPhone that was somehow quite impressive knowing the low quality delivered by the iPhone built-in camera. It is said that what's important is not the camera but the person using it. "Yeah but what if the camera delivers low quality files?" was I asking to myself. So I decided to give a go and try to get some decent shots with both my iPhone and MDA Vario IV.
This started last week during my Easter break to Devon. My wife and I decided to go to Torquay after seeing a TV program "Hotel Inspector". The sceneries shown in the program seemed very attractive and we wanted to have a try and hoped it was going to be a sunny trip as it usually is for all our Easter holidays. So we packed up for a 6 days trip to Devon with my D300 and her D70s and of course our mobile phones.
Luckily for us the weather was so lovely that week while it was raining cats and dogs in London. So Saturday and Sunday were spent at Slapton Sands a 3 miles long beach near from Darmouth. I was really lazy that day and most of the time was spent sleeping under the sun in the lovely breeze. From time to time I would try to get some pictures taken but with my mobile phones leaving the D300 in the backpack (until the Sunday before leaving the beach doing some jumping shots on the sand, but this will be for another post).
The iPhone built-in camera has a fixed aperture of f/2.8, a fixed focal length equivalent to 37mm (no optical zoom), a fixed focus distance and is delivering a 2 MPix JPEG file... That is not so great especially when you want to shoot close-up like I was planning to do. From some previous snaps what I can tell is the JPEG file quality is not high and as you can't go manual for any settings, you need to get everything right in order to get a decent picture: light, composition, distance object/camera...
As I already said, we were quite lazy under that great sun (OK it was not as warm as if you were in the Hawaii but for Londoners it's heaven!), so for the first shot we needed to find something to shoot without getting up!! So we ended up shooting... our feet...
On the first picture you can tell that the colors and lighting are not great. It's due to the bright day that somehow tricked the iPhone metering system to underexpose and color correct the scene. So I've used 'Photo FX' app for the iPhone to enhanced the result (2nd picture). It's a quite cool iPhone app that give you the ability to apply some filter to your photographs. For this picture it fills up the shadows a bit and make the picture warmer.
For the next picture I decided to not leave my horizontal position on the beach and grabbed a rock not far from where I was and sticked in the mini-pebble beach. My objective here was to get a close up shot of the rock showing both the beach, the sky and the landscape afar. My first difficulty was the focusing distance, I couldn't get the rock too close to the iPhone without sending it out of focus.So I had to back up a little and decided to sacrifice a bit of in-focus in order to have what I think is a decent size of the stone in the frame. So the stone was not completely in-focus but it wouldn't be that obvious due to the quality of the file and as I will resize it for the blog it will get a bit sharper, a little crop got rid of the extra sky and beach.
I also did a serie of pictures with a stack of pebbles in front of the sea just to make it more of an interesting shape.
Having my MDA Vario IV with me, I started to compare the quality of both mobile phones. The Vario 4 has a better lens with variable and shorter minimum focusing distance, variable focal length (optical zoom) and pictures are much sharper than the ones from the iPhone.
As I don't have any photo editing software for Windows Mobile those pictures from my MDA Vario IV are straight out from the camera that's why the colors are colder than the iPhone's pictures above. But you can see the potential.
Later on Sunday evening we stopped in Dartmouth on our way back to the B&B in Torquay. As we were looking for a place to have diner my wife and I took our mobile phone out and took some shot of Dartmouth harbour in the sunset, which wasn't as colorful as I was expecting... I started with the MDA Vario 4 using its built-in panorama stitching feature:
The result was not unpleasant although the stitching was not perfect as you can see some color/light issue where the pictures are stitched together and some part of the scene are not properly aligned, but I guess is due to my self not holding the camera straight enough. Color wise as the phone is trying to color correct the scene for every image, the resulting photograph can sometimes look weird and sometimes interesting.
I haven't installed any panorama app for my iPhone yet at the time (I have now but find that the MDA's one is easier and quicker to use) so I just shoot a regular pic and cropped it with 'Photo FX'.
Above: the picture on the left is the original straight out of the iPhone and the right one is post-processed: crop, enhanced, golder reflector effect and color gradient effect.
After enjoying few sunny days it started to rain on Monday as we were visiting Lydford Gorge and on Tuesday during our visit to Castle Drogo two National Trust places. Tuesday was my last day in Devon, in the evening we headed back to London leaving behind us some nice souvenirs of Devon. As I got really tired from the trip jumping on beaches, walking and shooting every day in every places carrying that backpack... we stopped several times on highway service areas to get some sleep. At the last stop it was raining hard as we are getting closer to London. The steam on the inside of the car window and the raindrops on the outside was creating a nice pattern especially with the lamp posts shining thru. I grabbed my iPhone again and took a snap but unfortunately the view was nicer bare eyes so I attempt to save the shot with my favorite photo editing iPhone app and got something interesting:
Original shot on the left and processed on on the right.
All right, I won't be winning any contest with those shots especially if they have to be printed. But I think the iPhone can deliver quite some decent results if used under ideal condition and with a good knowledge of composition. Mobile phones are getting better built-in camera even though they still don't beat a proper one but it's still more practical to get everything in a single device.
I will definately try to improve my mobile phone photography. Restrictions always improve your skills and creativity.
Tweet