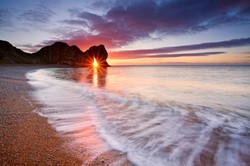 Most of you that are interested in Landscape and Travel Photography should already know David Noton. If you do not, I urge you to have a look at his amazing portfolio on David Noton Photography.
I just been told that David Noton is holding a workshop in London, here are the details:
"Imagework presents David Noton 'The Final Touch: A Commitment to Quality'.
15th March 2012 at Westbourne Studios London 10.00 – 17.00 £95.00
Following on from Philip Bloom's sell out workshop we present David Noton who many of you will know from his amazing travel images. This is not the usual day out on location but the opportunity to discover how David has become successful by following his business practice as well as his photographic skills.
David Noton is an award winning landscape and travel photographer with over 24 years experience as a professional under his belt. During his photographic career David has travelled to just about every corner of the Globe, with the exception of Antarctica - which apparently is on the list.
David's day long presentation will be aimed at advanced photographers. Areas covered will be field craft, attitude, working practice, editing, workflow, presentation and originality interspersed with demonstrations on capture to finish, travelling with camera kit, tilt and shift lens, use of filters and panoramic shots and stitching. Today it's quality not quantity and anyone aware of David's images will appreciate he follows this methodology.
'I seem to spend my life waiting for the right light and I'm a weather forecast addict. But in 1981 I was working in a glue factory, so I guess it's going pretty well.'
For further details and booking information please go to http://imagework.tv/ "
-30-