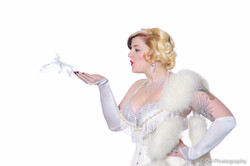 I have been giving talks around off-camera flash with speedlights techniques at the LPMG (London Photographic Meetup Group) for some times already. Off-camera lighting is a subject that interest quite a few photographers because although simple, you need to understand the basics and learn the tricks in order to make these portable flash unit your photography best friends. Some of the talks were accompanied by mini workshops where people could put into practice what was discussed. But this year, with the LPMG's organisers, we have decided to launch a series of Speedlight Workshops on their own. This is a great opportunity to get affordable tuitions on this fantastic and magical subject.
For a start we will have basics workshop to get you understand and master the essentials of off-camera flash and properties of light. There will be no secret held back!
The first workshop will be on Saturday 26th of February 2011. It will be done in two sessions (each session will have the same content, this is just to offer flexibility to the membership):
I'm looking forward to see you there, be quick as it is filling up quite fast!
-30-
After a year thinking about it, I've finally launched my first ever photo exhibition. I've decided to get out of my comfort zone and not taking posed portraitures with artificial lights but try to capture people in the streets of London. The purpose is not to get a technically perfect image but try to catch a moment or feeling adding some unusual compositions and use technical imperfection to increase the interest in the resulting work.
The exhibition has started yesterday and will continue until the the 4th of March 10pm. I will be present at the venue on Feb 11th, Feb 25th and March 4th from 6.00pm.
Any comments/critics are welcome!
-30-