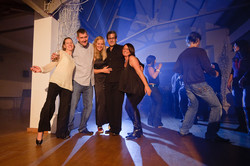 I'm sometimes asked to cover a Christmas or birthday party and was thinking I might share few tips to other photographers out there. These tips are valid for any kind of indoors party where the light level is low.
I will try to show you how to take good shots keeping the existing ambient light in the photographs and how to create your own ambient when the party venue is dull.
I will be covering mostly off-camera flash technique and how to maintain sharpness and ambient light.