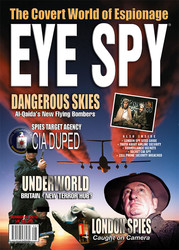 In November last year I've announced the start of my new personal project about espionage along with the very first photograph of the series: Vik Moreno as James Bond.
Following this, I've been to doing a photoshoot at a famous spy location in London: No. 2 Audley Square. This place on the South of Audley street has a lamp post that was used by the Russian spy in back in the mid 50's. The agent would mark an 'X' with a chalk on the lamp post to let his controller know he needed to meet. The photoshoot was held in the evening and the low light condition coupled to a continuous rain made the work quite a challenge. But I managed to get good shots of Alan Titchard from Wizard Walks in London. I won't be revealing too much about this photoshoot until the end of the project.
This month Eye Spy Intelligence Magazine issue No. 66 will be featuring Alan's portrait on the cover (bottom right) and a 4 page article about my espionage project featuring samples of my work. Eye Spy Intelligence Magazine is sold in 36 countries to a readership of about 100'000, so this is really good news for me and I'm really excited to share this with you all.
Eye Spy Magazine #66 is now available in any good newsagents.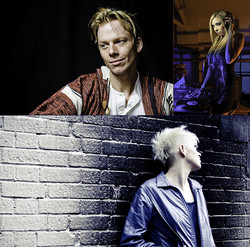 I went to a London Strobist meetup recently, it was really cool as usual with lots of great photographers and models.
The weather was quite freezing so shooting outside was a bit tough but OK though.
Light wise I tried different things:
- for Murphy Thomas (top left), I've tested a new setup, one flash bounced into an umbrella and another flash clamped on the same stand pointing in the other direction to create a hard and soft single light source.
- for Rachel-Claire, the shoot was done in a student room so in order to re-create a night club ambiance I used three speedlights: the key light was gridded and clamped on a rail and pointing to R-C's face, a blue gelled flash on the desk in front of the model pointing towards the shelf, and a double full CTO gelled flash hand held by a fellow photographer behind R-C and pointing to the background.
- The light for _La is rather simple, an overcast day...
-30-