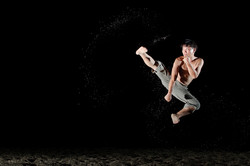 I've just been for three weeks in Vietnam to visit my wife's family in Long Thanh in the South. It was an unforgettable experience, this is my third time in the country and I always like it, the people, the food etc... And obviously the weather was really hot and humid. We stayed in Long Thanh for around two weeks and also went for a swim in Long Hai and stayed in the Swiss Village Resort in Mui Ne, Phan Thiet.
Every thing was an excuse for taking pictures. I took with me my mini Polaroid PoGo printer which the kids enjoyed a lot. Having their pictures printed out instantly was exciting for them.
As a tradition between my wife and I, we are always doing jumping shots anywhere we are going :-D And this time was no exception and it was contagious.
For more details about the shot above, please have a look at its Flickr page. Also check out this other photographs of me against my wife.
More photographs from the series can be found on my Facebook fan page.
-30-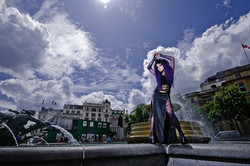 I'm currently on holidays and my wife and mum just went shopping... so 'm taking the opportunity to update this blog.
Today I thought I would go back to an old photograph I've taken in Trafalgar Square to just discuss a bit on how to shoot fast and the get the shot you want.
Why would you want to shoot fast, some would ask? Wouldn't it be better to take your time and get it right? The answer would obviously be 'yes, but...' there is always a 'but'... you don't always have that time. If you are shooting an important person, in a crowded place where you might be obstructing the pathway etc... the time frame available for you to get the shot might be very short. So how can you get good shots in short time?
David Hobby (Mr Strobist) came back to the UK for a Strobist seminar tour last month. As I already attended the seminar before, this year I just came for a drink with some London Strobists admins. At some point during the evening DH took this shot:
It was a very pleasant evening and I'm sure all who attended the seminar have learned a lot.
-30-