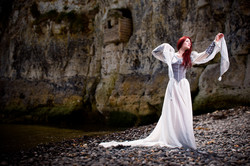 What is nice being a member of a camera club or a photographic society is that you get to meet other photographers that you can learn from or teach to which both makes you improve yourself. My first ever photographic society is the Ealing and Hampshire House Photographic Society (EHHPS), I joined the club as it was the closest to my place and just like it a lot even though I'm one youngest members. Most of photographic societies exist for a very long time and their members are members since long time ago, but it's really interesting to join as you will have different points of view and submitting your work into the local competition is always interesting.
Among photographers I've met at the EHHPS, there is Frank Williams that you already know from my photograph called "Attack of the autumn leaves". We've been mates since then and went shooting quite a few times together. Recently I've been getting in touch with Shaun Hodge another great photographer from the same club. After talking about flashguns and photoshoots he invited me to join him shooting for a dress maker friend of his. The shoot would be taking place in Dover and we would have a MUA (Make Up Artist).
I've recently joined Twitter and got addicted :-D, it's a free social messaging utility for staying connected in real-time. A lot of people are using Twitter to just update their status answering to the classic question "What are you doing?" within 140 characters. But Twitter can be used as a great micro-blog allowing you to stay connected with not only your relatives and friends but also to other professionals and individual (read potential customers). Well used, Twitter can be a great complement to your online website showing case your work, dragging traffic to your main website and staying in touch with your visitors, they will not only read your blog or view your pictures, they now can communicate with you in real time, follow your every day work etc... This gives a new dimension to your online marketing.
Twitter is also a great source of news and advises, in today's Fave Links I will list some of my favorite tweets from other members of the Twitterverse (universe of Twitter).