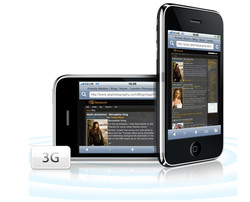 I recently discovered some pictures taken on the iPhone that was somehow quite impressive knowing the low quality delivered by the iPhone built-in camera. It is said that what's important is not the camera but the person using it. "Yeah but what if the camera delivers low quality files?" was I asking to myself. So I decided to give a go and try to get some decent shots with both my iPhone and MDA Vario IV.
This started last week during my Easter break to Devon. My wife and I decided to go to Torquay after seeing a TV program "Hotel Inspector". The sceneries shown in the program seemed very attractive and we wanted to have a try and hoped it was going to be a sunny trip as it usually is for all our Easter holidays. So we packed up for a 6 days trip to Devon with my D300 and her D70s and of course our mobile phones.
Luckily for us the weather was so lovely that week while it was raining cats and dogs in London. So Saturday and Sunday were spent at Slapton Sands a 3 miles long beach near from Darmouth. I was really lazy that day and most of the time was spent sleeping under the sun in the lovely breeze. From time to time I would try to get some pictures taken but with my mobile phones leaving the D300 in the backpack (until the Sunday before leaving the beach doing some jumping shots on the sand, but this will be for another post).