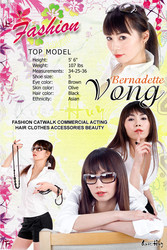 Here I'm again with Bernadette Vong, yes I know again... But she is a wonderful model to work with and I enjoyed it. This time I went to a Paul's Studio way far to Reading with Frank Williams a photographer friend of mine. That was my first time in a studio and I was shooting with a 50mm f/1.8 that revealed to be too long for medium sized studio so I ended up using one of Frank's wider lens.
The studio was setup for a classic high key session: a white backdrop, two background lights, one hair light on the ceiling pointing down and two front lights shooting thru big softboxes at 45 degrees from the subject. We were shooting at f/16 and I was a bit annoyed not to be able to shoot at bigger aperture because we could not change the strobes power and it would burn out the pictures.
Shooting in a studio is an interesting experience, you have so plenty of light that it is hard not to get a sharp picture. The light was wrapping all around the model creating none or very soft shadows. As the light source was huge, the specular reflection on Bernadette's hair is very clean.
I still prefer on shooting on location though, I find it more interesting and challenging. But in the UK, winters are very cold so you'd better have a studio as a plan B.
-30-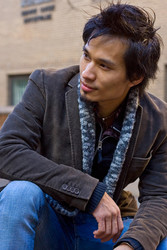 Austin Dinh
I've met Austin on ModelMayhem.com (like most of the other models I've worked with). He needed to update his actor portrait portfolio and so I've helped him.
We went to Central London by the City Hall trying to get some urban portraitures. Austin is Vietnamese and has a strong look in his face. It was great working with him and we got some really nice pictures. I like the variety of scenery that Central London offers. Those different backgrounds helps to give different feelings and moods to the photographs.
At the time I was still using only natural light using a home made silver/golden reflector to fill the shadows. I didn't know at the time that you could also use it in some situation to create a nice rim light around the subject to separate him/her from the background. This came later on with the experience and that is why I've joined websites such as modelmayhem.com or supermodels.com, they allows you to build up a nice portfolio and your skills. It's a nice collaboration between the photographers and the models: pros meet pros, pros meet amateurs, amateurs meet amateurs... Highly recommended if you want to improve your portraits and PR skills.
-30-