Jumping shots in Vietnam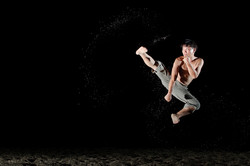 I've just been for three weeks in Vietnam to visit my wife's family in Long Thanh in the South. It was an unforgettable experience, this is my third time in the country and I always like it, the people, the food etc... And obviously the weather was really hot and humid. We stayed in Long Thanh for around two weeks and also went for a swim in Long Hai and stayed in the Swiss Village Resort in Mui Ne, Phan Thiet.
Every thing was an excuse for taking pictures. I took with me my mini Polaroid PoGo printer which the kids enjoyed a lot. Having their pictures printed out instantly was exciting for them.
As a tradition between my wife and I, we are always doing jumping shots anywhere we are going :-D And this time was no exception and it was contagious.
For more details about the shot above, please have a look at its Flickr page. Also check out this other photographs of me against my wife.
More photographs from the series can be found on my Facebook fan page.