Photo project on Espionage - Part II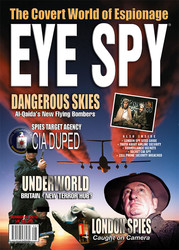 In November last year I've announced the start of my new personal project about espionage along with the very first photograph of the series: Vik Moreno as James Bond.
Following this, I've been to doing a photoshoot at a famous spy location in London: No. 2 Audley Square. This place on the South of Audley street has a lamp post that was used by the Russian spy in back in the mid 50's. The agent would mark an 'X' with a chalk on the lamp post to let his controller know he needed to meet. The photoshoot was held in the evening and the low light condition coupled to a continuous rain made the work quite a challenge. But I managed to get good shots of Alan Titchard from Wizard Walks in London. I won't be revealing too much about this photoshoot until the end of the project.
This month Eye Spy Intelligence Magazine issue No. 66 will be featuring Alan's portrait on the cover (bottom right) and a 4 page article about my espionage project featuring samples of my work. Eye Spy Intelligence Magazine is sold in 36 countries to a readership of about 100'000, so this is really good news for me and I'm really excited to share this with you all.
Eye Spy Magazine #66 is now available in any good newsagents.
Click here for a preview of Eye Spy Intelligence Magazine number 66
An extract from the online PDF above:
"SPIES IN CAMERA - THE IMAGINATION OF QUOC HUY
Eye Spy looks at the remarkable story of a Vietnamese man whose passion for photography has led him to the former haunts of many notorious London spies and allowed him access to some of today's "spooks" for a new exhibition of "espionage imagery"... Eye Spy exclusive
EXTRACT: Two years ago, a friend invited Huy to his London home to take a portrait of his family. Little did he know then, that the job would take him into the shadowy world of spies and espionage. After the photo shoot, his friend confided that he had recently retired from the "intelligence community". Huy recalled his surprise: "I was gobsmacked, I had always imagined a spy as a 'James Bond'-type, and I think most of us do. I decided to research the subject of spies from around the world and to do what I do best - photograph any former spy that would be willing to sit as my subject."
Huy clearly didn't feel his friend fitted the "archetypal image" of a spy... but then most "spies" don't. And in any event, by way of his constant tramping around London's pavements in search of his prey, Huy's probably figured out by now that most spooks look just like everyone else and come in all sorts of colours, shapes, age groups and sizes..."
For a peek at my work for this project go to Barnes and Noble, W. H. Smith, Borders or all good newsagents and ask for Eye Spy magazine!
Tweet