Apple iPhone and cool apps for photographers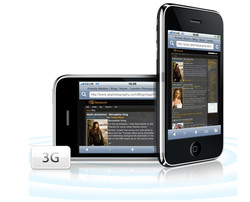 Few months ago I've said bye "bye!" to Three, my UK mobile phone provider and say "hi!" to O2 with their offer for an iPhone 3G v2.0. And I'm glad to have done this. Browsing the Internet is so more intuitive and easy, the multi-touch (zooming with two fingers) screen is awesome. And as a photographer the iPhone is a very neat tool to use as a pocket portfolio, the LCD is bright and sharp and you can rotate your pictures just by physically rotating the phone.
The Apple Apps Store also offers a bunch of free and paid applications and some of them are quite interesting for a photographer.
Out of the box apps:
Safari browser. This is probably every one is using the most. O2 contract comes with an unlimited 3G high speed mobile data connection. Being a London photographer, I'm commuting a lot and most of travels in the London's Underground takes a lot of time. So during my journey in the tube I'm using the iPhone to read my emails and favorite photography blogs and websites. Safari is using the iPhone's multi-touch and accelerometer to allow you to browse in a more fun way using your fingers to scroll thru pages, zoom in and out, rotate the phone to change the page orientation... Very cool!
The Photos app. The iPhone's built-in camera is not far from being the greatest mobile phone camera on Earth... But its photos management application is very useful and it's great for showing your work to people.
The Calendar app can be synchronized with an Exchange Server so you can take all your appointments with you.
With the Youtube app, you can watch tutorials videos while you are commuting. But you need a good 3G reception though.But if you "jailbreak" your iPhone then you can install more 3rd party applications such as MxTube that allows you to download Youtube videos and view them offline.
The weather app displays a one week weather forecast for loads of countries. But as all weather forecasts in the UK, they are usually not consistent...
Additional 3rd party apps:
Apple iPhone comes with the App Store application that allows you to connect to Apple server, search, download and install Apple approved 3rd party applications to extend the features of your iPhone.
Exposure and Klick are two great applications to connect to your Flickr account. They allow you to view your photos pool, groups' pool, your contacts pool and recent uploads, recent activities (added comments, favorites...) on your account etc...
Cooliris app. Cooliris was already a very popular plugin for PC, it allows you to browse Cooliris ready in a very cool way displaying all pictures of that website in a dynamic photo wall. See it and you will be addicted to it. Cooliris is also available for iPhone. It is not really stable at the moment but we should expect some improvements soon.
Dual Level is a cool application that uses the iPhone accelerometer and transforms your iPhone into a spirit level. You can calibrate it using a real spirit level then your iPhone can be used as a cheap spirit level for your tripod or camera when going taking landscape photographs. It's maybe not as practical as a real spirit level, but can be handy sometimes.
Photocalc is a photographer swisstool:

Exposure Reciprocation: set your ISO, Shutter Speed and Aperture, lock one of them, change another one and the third one will be updated to keep the same exposure as the original settings
Depth Of Field calculator: set your focal length, aperture and subject distance and your iPhone will tell you the amount of your picture that will be in focus.
Flash Exposure: in this calculator you select a field to be calculated and fill in the other fields, the iPhone will calculate for you the value of the missing field to achieve the correct flash exposure. Fields are: guide number, aperture, ISO, flash power and subject distance to the flashgun.
Reference: in this section you have cool stuffs such as the glossary or the local sunrise/sunset time.

Fring and Syax. These applications allows you to use your iPhone as a softphone using a VOIP/SIP account to make cheap or even free phone calls any country. Fring needs a WiFi connection Syax claims to also work with 3G.
AirMouse & AirMote. Very cool applications that allows you to control your computer mouse and keyboard and use your iPhone as a mouse pad. If you are doing seminar this is very useful to remote control your PowerPoint presentations or slideshows.
Twinkle is a social networking app that allows you to chat with iPhone users from around the world. You can select to display only users from within a certain distance range. This is really cool to meet more photographers or potential customers.
iPhone related applications for Mac OS and PC:
DiskAid for USB File Transfer. If you want to use your iPhone as an external hard drive then this application is for you. It uses USB to transfer files between your iPhone and your computer. USB is much faster than wireless. No need to jailbreak your iPhone!
Tweet