Celine and Julie, two frenchies in London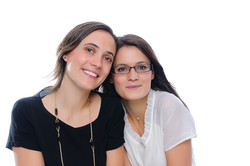 I've been introduced to Celine and Julie through @fabiennehb, a Twitter friend organiser of the Apero Blog, a meetup group for French bloggers in London. The two sisters asked me to take some portraits of them as a gift to their parents in France. We went to a studio in Kennington and I went for a high key theme for these two young and dynamic french girls.
The slideshow has been created with iPhoto on a Macbook Air 11", this small laptop has enough oomph to run Lightroom for quick pre-editing, the software even loads up faster than on my desktop, this is thanks to the SSD drive which is very fast.