Training in Oslo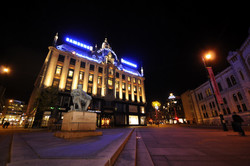 Being also a web developer, I'm being sent to Oslo (Norway) for a training course on eZ Publish, a advanced Content Management System (CMS) that we are using at the company.
I left London from Heathrow T5 at 1pm today and arrived at about 4.30pm, Oslo time. There was still some snow on the street and obviously it was quite cold but not that bad though. I was expecting the sun to be still high as we are up north but I did not realize that in winter the sun goes down even sooner than in London. At this period of the year the sun raised at 8am and set at 4.30pm... That's not cool for evening shots as I'm hand holding my camera, but at least I don't need to wake up to early to try some nice shots in the morning.
After about 25 minutes on the Oslo Airport Express Train (17£ on way!) I arrived at the National Theatre station in the center and thanks to TomTom I found my way to the hotel which is only at 10 minutes walk. The receptionist was a young vietnamese lady, Hieu, arrived in Norway 8 years ago. I ended up to the 8th floor room 802. Cool! the room is cute and the view is quite cool too.
Hopefully I have free access to the Internet thru a WiFi connection. That's cool, I will be able to call my wife with VoipStunt softphone for free :-D
I'm also waiting for some models from ModelMayhem to come back to me for a photo shoot, still no news...
As diner time is coming, I headed to the city center hunting for some food. And you know what, a can of Coca Cola is 3£! My Kebab was 6£! Ouch!
Well, at least I could have taken some pictures of the calm city centre. Cityscape being my best skill and being without a tripod, I did my best to take decent photographs. Lucky for me, by using a very wide angle lens, a shutter speed of 1/10 sec was enough to get decently sharp pictures at ISO around 800-1600 @f/4.0. And my little friend Nikon Speedlight SB-600 was quite helpful for lighting up some statues in the darkness. A full CTO gell was added to the flashgun to match the tungsten lights of the city centre. Depending on the situation I would hold the flash in one hand while shooting with the other or set it on the ground using CLS to remotely trigger it.
That's it. The city centre is quite calm tonight or maybe I was in the wrong place... I will discover more tomorrow. But for now, I need a bit of rest and tomorrow will start the training course.
Day two
7.30am. It's time to wake up. A quick shower and I headed to the hotel restaurant for a continental breakfast.
8.30am. I now slowly heading down to the centre to catch my tube. As it is winter time, the sun was up only since 7.30 and was still quite low in the sky. There was a lovely light going thru the park this morning.
16£ for the set of 8 one way tickets and I headed to Storo on the Line #5. The underground here looks cleaner than our one in London. The trains are a wider and much less noisy.
After 15 minutes of travel I arrived to the training course location and we started the journey at 9.30am. And there I went for a whole day of learning eZ Publish. That reminded me of uni time :-D
4.30pm. Saved by the bell! Camera out of the bag I went back to the centre and tried to get some few shots before the sun went down.
I decided today to head to the harbour and do some few shots before it got to dark. I really wish I did bring my bulky Benbo tripod for evening shots! But had to set a high ISO and slow shutter speed to get as much light as possible.
Day three
It was quite cold today! The gloves did help a bit but my finger were still feeling the cold.
At 4.30pm, after the training course I headed to Frogner Park to try getting some night shots of those popular statues.
The path to the park was frozen by the cold weather. I had to be careful not to slip and fall with my equipment!
As I was shooting against the sunset the statues were captured by the camera by a black silhouette. I could have taken photographs as is but I wanted to practice some partial lighting techniques. So I took my Nikon Speedligt SB-600 and fitted it with a CTO (orange) color gel that is going to give me a golden look to the statues which is quite nice when shooting at sunset.
Depending on the size of the statue and my proximity to it, I would change the flash's zoom to control the size of the area of light hitting the sculpture, this allowed me to choose whether to light the whole statue or just part of it.
On some occasion I did put my flashgun on a statue's basement pointing to the statue on the opposite side. Shooting like that allowed me to create more shadow and more contrasty image.
I also did experiment with backlighting my subjects and even took some pictures with the flashgun in the statues. Black and white was also a good effect.
After an hour shooting or so, I went back to the station. I noticed that where I saw water on the street was now ice.... brrrrrr....
Not far from the T-Bane station (Oslo's tube) was a big Colisseum cinema. They were preparing for the release of "Quantum of Solace" the most recent James Bond movie. Two Astin Martin were parked in front of the cinema and a red carpet was deployed. I was hopping to see Daniel Craig or at least Olga Kurylenko! But there was only an acting on the roof of the cinema with some explosions and gun shots. That was my one hour standing in the cold for 2 minutes of marketting campaign...
So I decided to head back to the hotel for a hot reviving bath.
Day four and five
The last two days of the training course were starting to get boring. The training course itself was interesting, but it was afterwards that was less. I've already visited most of what I could do and knowing no one and not understanding what people are saying around make me feel a bit isolated and I was missing my little wife.
Hopefully on the last day, I had discussed a bit more with the other course participant and discovered that two of them were also interested in photography. Nhat Chu, a vietnamese living in Oslo for quite a while, was shooting Canon and Gunleik Nisi, a Norwegian, was shooting Nikon. That was cool. We showed our mutual portfolio and I managed to convert them into Strobism.
On Saturday, I met Nhat in the centre and he took me to a Vietnamese restaurant to have a nice Pho (traditional vietnamese noodle soup) and we went around visting another part of Oslo, I took the opportunity to show him a demo of off camera flash techniques and he showed me a great camera shop, though a bit expensive compared to London.
In the afternoon, I had an appointment with Gunleik. He had managed to call one of his friend Anne Romslo, an Oslo photographer. We wanted to see if she was going to shoot a model in her studio but she told him she was on a wedding shoot and proposed us to join her as assistants, of course we accepted the invitation. The session was done in a nice old house. Anne did bring her studio equipement and has setup everything in a room. Some of my gears that I took with me to Norway did helped her with her setup. Hehehe that's cool. I was also allowed to take the bride and groom to shoot in the house scenery and I also took the opportunity to take some portraits of the bride. After what Anne continued with the couple and I went shooting the guests.
Sunday, my last day in this trip to Norway. Gunleik proposed to go hiking in Oslo West forest. With his girlfriend, we took the metro line #1 which took us directly to the forest up on the mountain. It was very cold and there were some fog so I did just take some portraits of Gunleik and Vivi in the wood. Then in by lunch time we went to the beach to do some more photos when it started to rain. But it was also time for me to head back to the centre to take my Airport Express train.
Back to London, it was so windy that I thought my plane was one of these attractions in Disney Land park! Burp.... my stomach did not like it so much...
More pictures of the wedding photoshoot and the trip in the wood and beach to come.
Tweet