Jumping shots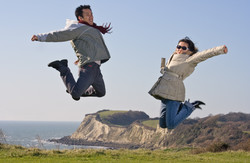 Since about June 2007 I've followed on a nearly daily basis the evolution of Strobist, a blog setup by David Hobby, an ex photo journalist working for the Sun in the US. In a friendly and simple way, David Hobby is teaching you how to use small and portable flashguns to the maximum of their possibilities and achieve high quality photographs. The Strobist blog is reinforced by a Strobist Flickr Group where the blog readers could participate in the group discussion threads and posting their work into the group's photo pool and get comments and critics.
I remember going thru several pictures of skateboarders, cyclist... doing high jump with a great sky in the background. This made me want to get some similar photographs. So, with my wife, we started a serie on our trip to the Isle of Wight.
The Isle of Wight
The photograph on the top of the page was taken during our holidays in the Isle of Wight last February.
Taking a jumping photograph does not require a Ph.D. It is quite simple and fun but requires from the photographer a little sense of timing to press on the shutter at the good moment. But for this shot the photographer, me, has to be in the picture which made it slightly more difficult to get... I've set the camera (my old Canon 350D) on a tripod and used the camera timer. Hopefully the camera has a blinking light on the front that blinks every second and from the last 2 seconds it blinks faster. After pressing the shutter, running next to my wife, we both waited for the fast blinking sequence and then counted a bit and jump in the air hopping the shot was good. Well... it was not, so wasn't the next one and the next one... Failures included jumping too early, too late, us not jumping at the same time, me shadowing her, bad facial expressions etc... The sun being on the left was lighting my wife and left me in the shadow, so I needed to set a Sunpak 383s on a lightstand on the left and triggered by some Cactus V2s radio trigger. The flashgun was acting as a fill flash for me and gave my wife a bit of separation. After 20 or 30 attempts, we at last get some decent pictures we were happy with and hopefully we did get them before loosing all of our energy jumping like crazy.
How can you jump that high?
People often ask me how we managed to jump that high. Well the trick is just to set your camera very low to give the feeling of a high jump. Try, you will see.
Our engagement day
Last June, we have decided to get married, yeah just like that, out of a sudden... LOL. The wedding day was set to the 28 of August. Now, looking back, we were mad! It was a foolish idea to try to get everything ready in a couple of months, but we did it and it was cool, we even managed to get a sunny day!
For the engagement, I took my girlfriend to Primrose Hill at sunset and asked her to be my wife and before heading to the Lemonia, a great greek restaurant, we did some few souvenir photographs and of course this included some jumping ones!!! But to save our energy and enjoy our diner we just did a few. Here are our favorites:
Our wedding day
"Oh no, don't tell me they did that on their wedding day!"
Well, yeah we did it again :-D
Thanks to Masood for the pictures.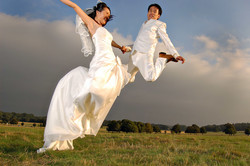 Our trip to Snowdonia
My mother still being with us, we took her with us to a relaxing trip to Snowdonia, North Wales. It was a very nice holiday, I enjoyed it a lot and was thankful that there was no mobile reception and no Internet either. This allowed me to rest a bit. But of course my camera (I've switched to a Nikon D300) was with me and was working fine :-D
We hired a lovely cottage in a farm. Opening any window would give a view to a marvelous mountain landscape with only sheeps as neighbours, not wall, no building, no car but a little river. Love it!
I did turn the cottage's living room into a home photo studio and took some portrait of my wife and her mum. I was quite pleased with the result which confirm that you don't need to hire a studio to get a studio look.
But back to our Jumping subject!
On our way back to London (yuck) we went thru a mountain road and stopped by a lake in a Nature Reserve. I took my gears and set it up for another jumping photoshoot. But this time we were a bit bored of classic jumps so I tried to think of something. So I decided to be Bruce Huy... LOL :-D yeah we tried to do that famous jumping kick.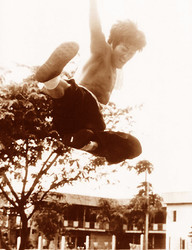 The sun was quite present and behind the camera so, no real need for a flashgun. But I did used one Nikon SB-600 on camera for on-axis fill at -3 stops. Here are the results including some failures:
Well that's cool. We love the result and are definately going to do some more and try to get some other ideas to do in the air. Tell us what you think of these and any suggestion for future jumping shots are welcome!
Tweet