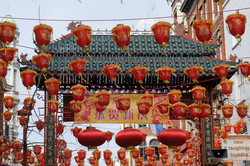 China and Vietnam are sharing the same lunar calendar and astrology (except for the rabbit which is a cat in Vietnam). The Ox is going to govern this year starting on the 26th of January.
The Vietnamese New Year or Spring Festival, also called Tết, is the most important of our traditional holidays. It's the time for all the family to gather together around lovely food, forget about all the bad things that happened last year and start a new one in a happy atmosphere. It is believed that what ever happen on the beginning of the year is likely to be repeated throughout the year, so everyone tries to be happy, put any anger or bad feeling aside that's why kids are excited as they can do what ever they want (or nearly) without being reproved by their parents. They can also eat a lot of those lovely dried fruits and receive Lì Xì lucky red envelopes containing money, I wish I was a kid again :-P
This year, as every year, the London Chinatown Chinese Association has organized a celebration of the Chinese New Year in Centre London. There were traditional dances, songs, Lion dances etc... From Trafalgar Square to Soho, all the streets were very busy and full of colours.