It's become tougher to take pictures in the City nowadays, you can be stopped by an overzealous security guard or a police officer saying you are breaking the law by taking pictures on the location. They can even suspect you of being a terrorist or helping one.
"Set to become law on 16 February, the Counter-Terrorism Act 2008 amends the Terrorism Act 2000 regarding offences relating to information about members of armed forces, a member of the intelligence services, or a police officer.
The new set of rules, under section 76 of the 2008 Act and section 58A of the 2000 Act, will target anyone who 'elicits or attempts to elicit information about (members of armed forces) ... which is of a kind likely to be useful to a person committing or preparing an act of terrorism'.
A person found guilty of this offence could be liable to imprisonment for up to 10 years, and to a fine."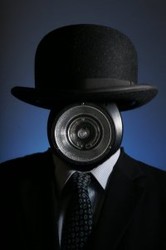 Using flash is something that a lot of beginners and even pro photographers are avoiding stating that available light is the way to go and natural light is the best light. But have you ever thought that by putting your flashgun in you bag, you make it an available light ready to be used wherever and whenever you need to complement or replace a bad natural light?
What if you need to do a bikini shoot in a dull cloudy day like we got here in London, UK? What if you are shooting indoor with low light level without those high end cameras? There are a lot of situations where a flashgun becomes handy and that's the reason why you should now start to use an external flashgun and learn to use it off-camera for a more creative light.
Learning to use your flash properly is not difficult. It's just a matter of practicing again and again. But once you get it, it will boost your creativity and make you go to the next level.